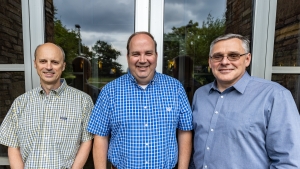 Renaissance Group, Inc. is pleased to announce that Barry Allmon, Ron Colin, and Wesley Wooldridge have all been promoted to Partners to help lead the company alongside partners Sal Feraci, Douglas Burris, and Michael Terry. Their dedication to the culture of this company, level of customer service and innate skill set has contributed to the success of this company and the projects they have touched.
After being team members and leaders at Renaissance Group for many years, the next step of becoming a partner was a natural one for Barry, Ron and Wesley.
Barry started with Renaissance Group in 1997, and since then, he has developed a keen eye for detail, as well as the ability to see a project in its entirety, which is a unique skill set when it comes to architectural design. Having worked across multiple markets has allowed him to be comfortable in many settings and spaces. Those that have worked with Barry can attest that his superior knowledge and take-charge personality puts you at ease because you know you are in good hands. The work he has done for The Farms at Bailey Station and Tri Delta Place at St. Jude Children's Research Hospital illustrates his mastery of detail in his craft.
"The structure of Renaissance Group allowed me to excel in my architecture career. There is an openness which fosters a culture of collaboration and transparency." – Barry Allmon
Ron started with us in 1999, and like Barry, exhibited great knowledge of his craft that puts both clients and contractors at ease immediately. He has a hand in all aspects of a project, from Programming to Design Drawings to Construction Administration. Ron approaches every situation with an easy-going attitude, even when working with local municipalities or tackling difficult issues. Some key projects that have shown his level of talent that led to this promotion include the new Collierville High School and FedEx Air Operations Training Center.
"With a team oriented and collaborative atmosphere, Renaissance Group has mentored me and allowed for my personal growth over the years and has recently given me the opportunity to be a partner.  Working with a great group of individuals and building relationships with local and national clients has been important to me." –  Ron Colin
In 2005, Wesley joined us as the head of Renaissance Group's civil engineering department. He is well-versed in site and subdivision design and development and knows the importance of maintaining strong relationships with all planning and engineering departments of the local municipalities.  The projects that exemplify his skill set include the new Collierville High School and the Evergreen Planned Development in Lakeland.
"I have spent my career in the Memphis engineering market maturing and growing into the position I am in today. Renaissance Group has given me the opportunity to do that while establishing many relationships in the community.  I look forward to our future here and the chance to mentor the next generation of engineers as they begin their careers." – Wesley Wooldridge